Note that in the very first release of the new ISAN system, searches can only be performed by ISAN (ISAN Lookup), from a Title and by Record Type, thereafter the list of results can be refined by many filters (years, directors, type, king, etc..).

additional search parameters will be added in the course of the first quarter of 2020.
1 Search by ISAN: ISAN Lookup
Open the Search from the Menu

Enter the ISAN number in the ISAN field and click on Search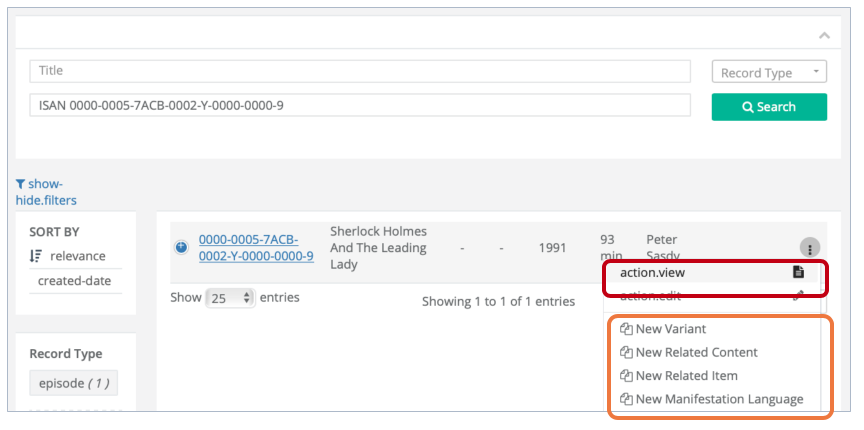 After a Search by ISAN or by Metadata you can use the Action Menu to register additional ISAN that are attached to the selected ISAN (i.e. children record in the ISAN hierarchy). If the ISAN is a:

- Series, you can add a Group or an Episode to the Series

- Group, you can add an Episode to the Group

- Episode or a Single you can add Versions to these ISAN

- Version (Variant, Manifestation, Related Item, Related Content) you can add a child version to this version (version of a version).
2 Search by Title & Record Type
You can also search by Title and/or limit the search to a specific Record Type (Series, Groups, Episodes, Variants, Manifestations, Related Contents, Related Items)
The example below retrieves all Single Works records with a Title that contains Sherlock Holmes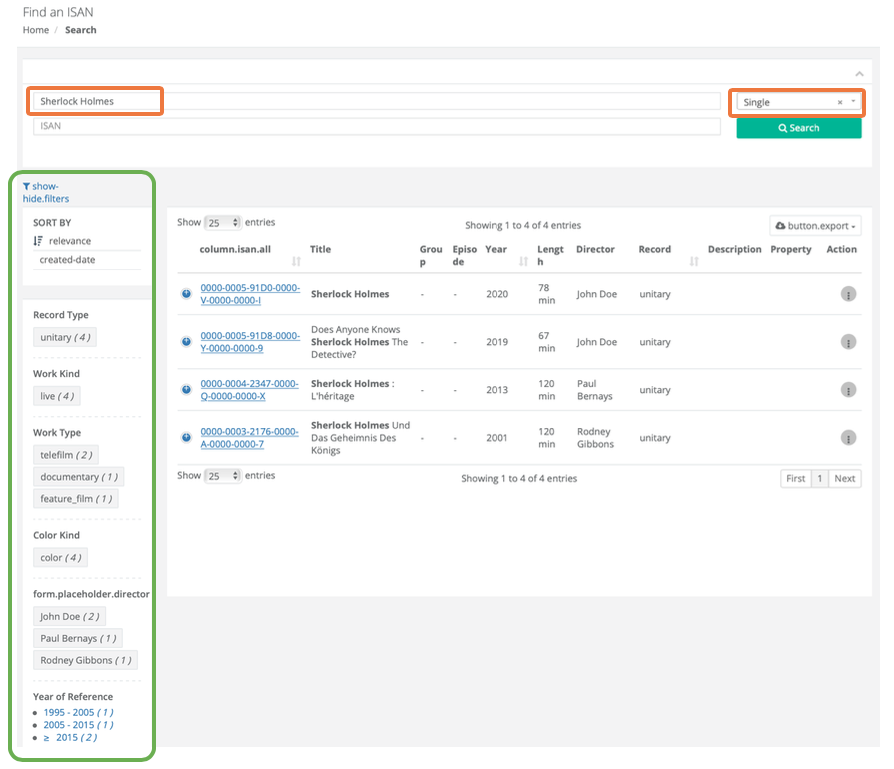 2.1.1 Refine the search with Filters
The search can be refined with the help of Filters (see the green box in the above screenshot)
The numbers between brackets indicate the number of results when the filter is activated
Click on a filter to activate it

When filters are set, they are displayed at the top of the result list (see the

green box

in the above screenshot)
To remove a filter, click on the grey cross on the right of the filter name (see the

red circle

in the above screenshot).
2.1.2 Open the ISAN data form and navigate through the ISAN hierarchy
Within the list,
If you click on the blue icon you can preview the main information attached to the ISAN
If you click on the ISAN number, you open the ISAN form with all information (see below)
View all versions attached to the ISAN (see the red box in the above screenshot)
For episodic works you can navigate the same way through the Series, all Groups, all Episodes and all Versions (if any)