As long as the metadata is not stable, only an in-development ISAN can be delivered. The in-development ISAN (or in-dev ISAN) has no public information and is therefore not searchable for reuse by others until it has been activated.
In-development ISAN shall be activated with final metadata once the project is finalised to publish the associated information and make it usable by others.
In-Developement ISAN are accepted by Film Founding Organisations that require an ISAN as long as the ISAN is activated at the completion of the work.
Create an in-dev ISAN
The process to create in-dev ISAN identifiers depends wether the work is episodic or not: 
Review the list of in-dev ISAN
Registrants can list and review all their in-dev ISAN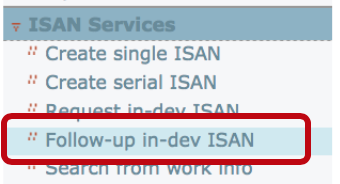 Update an in-dev ISAN
The in-dev ISAN metadata is only visible by the registrant, and the registration agency. Since audiovisual projects are relatively long (they can sometimes span over several years),  an in-dev ISAN shall always be described with the most up to date "working" information. This will facilitate the in-dev ISAN management durning the whole project life cycle and help to prevent duplicates by authors or co-producers.
To update the in-dev ISAN metadata, refer to in-dev ISAN: metadata update - activation
Activate an in-dev ISAN
When the project is finalised and the work descriptive metadata is final, the in-dev ISAN shall be activated to transform the in-dev in a final public ISAN searchable by everyone. 
WARNING: in-dev ISAN are not public, if you do not activate your ISAN before distribution, it can be replaced permanently with another ISAN registered and controlled by whoever needs the ISAN of your work (and can't find it) for distribution or rights management purposes.
To update the metadata of your in-dev ISAN with final information and activate your ISAN to make it public and searchable, refer to in-dev ISAN: metadata update - activation
WARNING: Always keep your ISAN information up to date to facilitate the use of the ISAN by third parties. For example, an active ISAN with a working title instead of the original title will be difficult to retrieve.