Duplicate check principle
After metadata submission for ISAN allocation, the ISAN system performs a duplicate check to assess if an ISAN has already been allocated for the work. When the process finds a similar content / possible duplicate in the ISAN registry, the ISAN request is paused and the registration is pending.  The registrant (and sometimes the registration agency) need to review the possible duplicate(s) and confirm whether the submitted work is already identified with ISAN or not:
If the ISAN already exists, the existing ISAN is to be used
If the possible duplicate(s) are different works, a new ISAN is allocated.
Pending Resolution
When a registration is pending, the registrant home page shows a message like this one:

  To resolve the pending, click  "display pending ISAN" menu.
| | |
| --- | --- |
| | This displays the list of pending registrations |
Depending on the level of similarity between the submitted work and potential duplicate(s), the pending is to be resolved either by the registrant (you), or by the Registration Agency.

| | |
| --- | --- |
| | Contact your registration agency is case the duplicate is to be checked by the registration agency (RA).   |
To display the pending resolution screen and take the decision: "is duplicate" / "is new ISAN", click on the title of the pending registration to resolve.
This view enable to compare the submitted work with the matching candidate(s):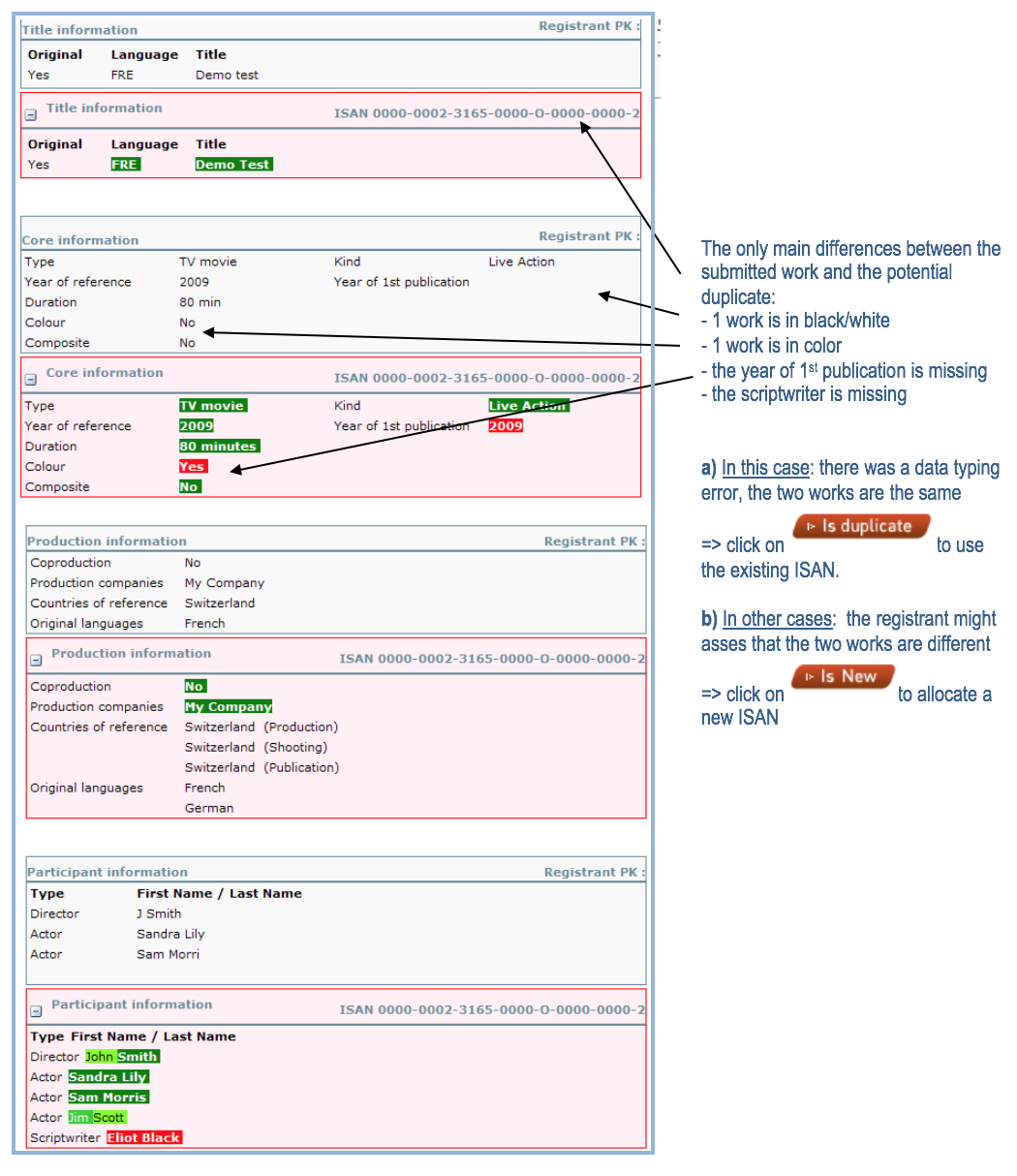 If the registration request does not match with an existing ISAN, click on "Is New" and your ISAN will be allocated and displayed in the notification board.
If the registration request is a duplicate of an existing ISAN, you will reuse the existing ISAN and click on "Is Duplicate". Copy first the ISAN number on your clipboard for later reuse as it will not appear in the notification board after pending resolution.