ISAN identifies audiovisual Works and Versions of works. The relationship between works and versions is natively contained in the ISAN identifier (all versions of a work share the same first 16 digits of the work, only the last 8 digits of the ISAN differ from one version to another).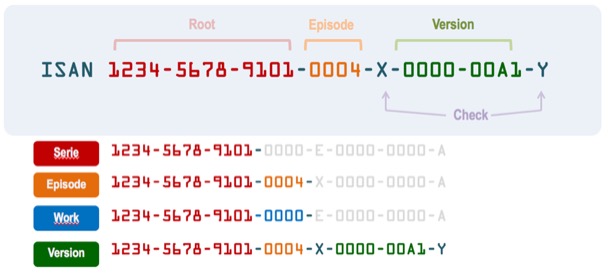 The ISAN Registry contains Works records that are categorized in Series, Season[1], Episode and Single Works and Version records that are categorized in Variants, Manifestations, Related Content & Items.
All records (Series, Season, Episode, Single Works, Variants, Manifestations, Related Content, Related Items) are linked in the ISAN Registry to form a hierarchy of records that can easily be mapped with FRBR based models such as EN15907.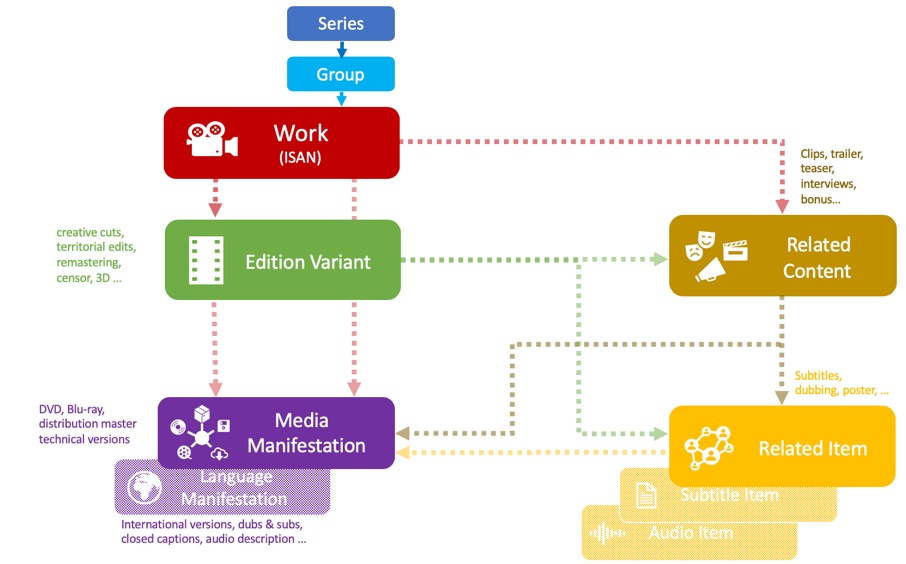 Variants of audiovisual works, are audiovisual contents resulting from change(s) to the audiovisual work that do not significantly alter the nature of the intellectual creation. Such creative changes are typically video editing, language changes are identified at the Manifestation level.  Would such editing change result into a new/different intellectual creation, a new ISAN would apply. Variants are described with metadata that define the purpose and specificities of the content change.
In the ISAN Registry, variants are versions with a Version Type = "EDITION" .
A Manifestation (of a variant) is characterized by the fixation of an EDITION variant on a physical or logical medium (e.g. Blu-ray, digital distribution package, …). A manifestation identifies typically (but not necessary) the compilation of assets that forms a digital distribution package (video edit, subs & dubs, supplemental content) for a specific country or region. Each asset in the compilation is identified with a V-ISAN.
Manifestations are described with metadata such as the media of fixation, languages, the country/region of distribution, technical characteristics (image format, encoding format, …) etc…
In the ISAN Registry, manifestations are versions with a Version Type = "MEDIA"
Related Contents or Items: an ISAN version can apply to other content that is derived from or closely related to versions of works when this content is intended for mass distribution and when it is necessary to identify that content in the broader context of an existing ISAN or ISAN version application.
- Related contents can for example be supplemental material such as clips, teasers, interviews, …
- Related Items can for example be subtitles, dubbing or closed captions resources.  
In ISAN, related contents are versions with a Version Type = "RELATED CONTENT" and related items are versions with a Version Type = "RELATED ITEM"
[1]Seasons were until now handled as a metadata field of Episode records. Season records are currently being implemented in the ISAN registry to substitute to the Season metadata field.
See also